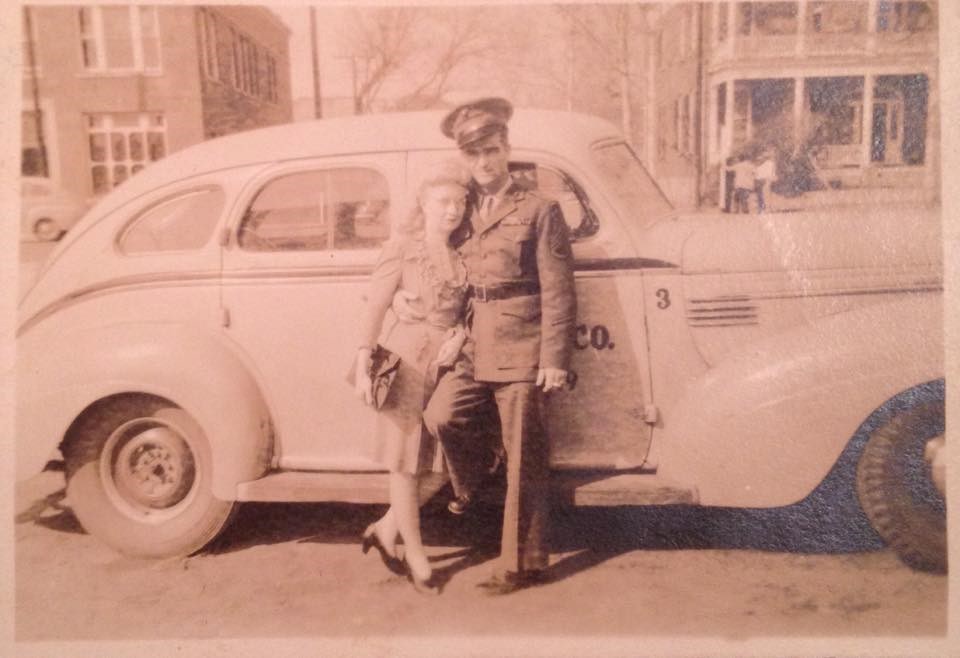 Jess L Lowe, a native of Ozark, Arkansas, came to Camp Lejeune as a young man serving in the Marine Corps. While there, he met a local girl named Lucille Bryan. At the close of World War II, they were married and decided to settle in Lucille's home community of Back Swamp, North Carolina. In 1945, the couple purchased a small farm next to her home place.
On the small tobacco farm, Jess and Lucille raised four children. On the farm, one would find corn, tobacco, and a garden full of vegetables to feed the family. There were also a variety of farm animals such as cows, chickens, pigs, and of course, the family pet bulldog named "Bull."
Tobacco was their main crop, and when it came time to "put in" tobacco, neighbors helped each other. While everyone was working in the fields, Lucille was in the house preparing the barn day dinner for all the barn hands. Generally, dinner consisted of fried chicken, ham, butter beans, potatoes, collards, homemade biscuits, and tea. Most of the food came right from the farm.
As the years went by and the kids grew, everyone ventured out into public jobs and stopped working on the farm. However, in the mid-1980s, Mike and his wife Theresa began working the farm again as a side job, growing this time, not tobacco, but Christmas trees. Eventually, they both left their public jobs and diversified the farm into other areas. A small gift shop was added and, over the years, has expanded with a full-service bakery. Customers can enjoy a cup of coffee or hot apple cider while watching the bakery workers make homemade cakes, pies, cookies, and fudge.
The farm, which is now called "Mike's Farm," offers educational school programs for children as well as an animal petting area. A Christmas light show attracts folks near and far, along with group campfire cookouts and hayrides.
It has always been, and still remains to be, the intent of Mike's Farm to create a place with a warm, wholesome family atmosphere for all of their customers. With this is in mind, a restaurant was also added to the farm, just like the home place that Jess and Lucille created for their family years ago in the farm community of Back Swamp.